Randy Brown
Nov. 12, 2019
U.S. GDP growth dropped to 1.9% in the third quarter. While consumer spending held up, business investment dipped and that divergence has been percolating for months. As the effects of the tax breaks fade, the U.S. economy is slowly shifting into lower gear.
This is also occurring on a global scale. The latest outlook from the International Monetary Fund (IMF) expects this year's global growth to be the weakest since the 2008/09 crisis. Growth forecasts for next year are only marginally better with advanced economies unchanged and emerging economies ticking up. The IMF attributes the global slowdown to trade disruption. Global manufacturing is in a recession and while the service economy is still holding up, tariffs are hitting consumers and business investment is down.
But despite ominous headlines, investors have reason to be optimistic as we head into the end of the year. Global manufacturing is starting to turn, financial conditions have eased and the U.S. and China seem close to a "Phase I" trade agreement. These are all signs that the current slump may have troughed and that fears of a global recession could be overdone.
---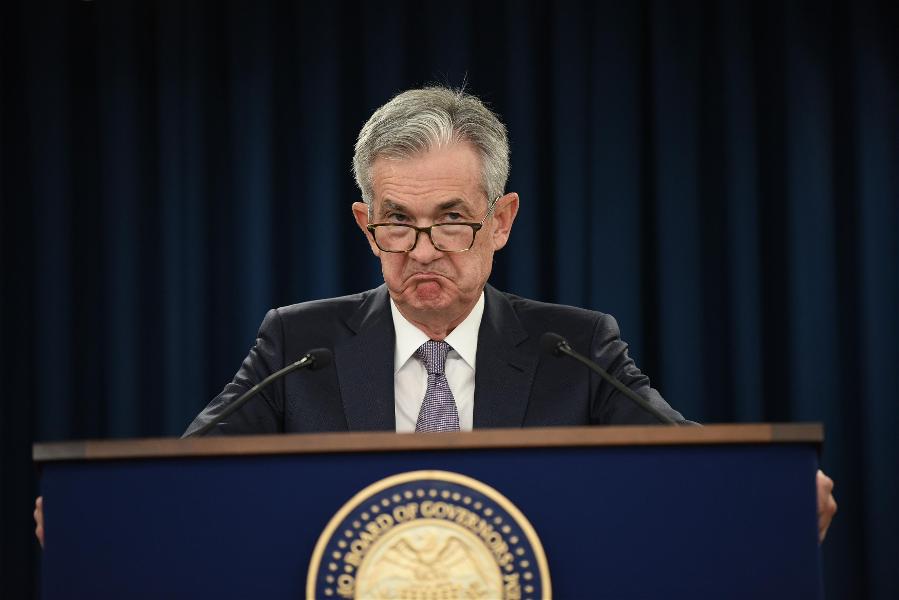 ---
Global growth could surprise to the upside next year, but politicians need to stay engaged and prevent escalation on the trade front. Since very few U.S. presidents keep their job after a recession, President Trump should have plenty of motivation to keep growth on track.
It's All About the Fed
Attentive central banks are an essential factor in trying to avert recessions. Right now, monetary policy continues to be supportive and the cumulative effects of rate cuts are helping consumers by encouraging home and auto financing. As a result, credit growth is picking up.
At the last Federal Open Market Committee (FOMC) meeting, Fed Chairman Powell signaled the bank is on hold, setting a high bar for cutting rates further. He reiterated the need to anchor inflation, which remains well below target and should allow the Fed to be accommodative for some time.
However, central banks cannot carry the entire load. Trade hostilities need corralling. On that front, the last month encourages optimism. The U.S. has abruptly shifted from demanding a comprehensive trade deal with China to being content to progress in stages. With an election year looming, Trump needs to be able to campaign on the economy and now seems willing to settle for incremental progress.
The Phase I trade agreement will focus on transactional commitments with China agreeing to increase agricultural products. The agreement may also include some progress on intellectual property rights. In return, the U.S. is likely to hold off on tariff threats or lighten the load of some already in effect.
This could set a constructive tone for the more difficult Phase II negotiations that are expected to focus on sensitive issues such as market access and government support for certain industries.
The Phase I news helped strengthen the Chinese currency. The yuan drifted down below 7 per U.S. dollar, its strongest showing since early August.
In other critical trade developments, signals from the Trump administration point to an amenable resolution to the U.S. threat to levy tariffs on European automakers. The U.S. has already resolved auto conflicts with Canada, Mexico, Japan, and South Korea, so it seems likely that European auto tensions can be contained. As auto weakness has been a drag on industrial output, this progress is a key reason manufacturing should start to recover.
The U.S. also needs to be careful not to overplay its hand. Senate Majority Leader Mitch McConnell recently commented on how the U.S. appears to be overusing economic penalties to force compliance in international relations. He noted it can be a blunt tool and bring unintended consequences.
For example, when Trump sought to delay signing the United States-Mexico-Canada Agreement (USMCA), to demand that Mexico do more to control illegal migration, the increased tariff threat didn't survive the weekend. Senior party members got involved and persuaded the president that the economy and markets would suffer.
All these efforts are helping diffuse U.S. economic policy uncertainty. And as the index tracker below shows, there's been a significant reduction in risk from recent highs.
What Are Markets Thinking?
For most of the year, bond investors feared a downturn and were confident the Fed would need to reverse its hawkish stance. Inflation expectations dipped, yields dropped and the yield curve inverted. Eventually, the Fed relented, declaring a need for a "mid-cycle adjustment" to sustain the U.S. expansion as global uncertainty rose.
Now, after three cuts, the Fed is on hold and bond investors seem content that the Fed has done enough. Yields have jumped from summer lows. On the other hand, while equities stumbled at the end of 2018, they have stayed strong year to date, with investors reasonably confident the Fed would remain supportive.
While the economy has some cracks and much depends on continued trade progress, it's hard to make a strong case for an imminent recession. Trade tension is mitigating, consumers are spending and the job market is vibrant.
Markets don't expect a recession next year. Main Street shouldn't expect one either, but politicians need to cooperate.
This article was written by Randy Brown from Forbes and was legally licensed by AdvisorStream through the NewsCred publisher network.