James Brewer
May 12, 2020
The coronavirus has been a perfect storm, exposing our nation's financial fragility. The biggest problem for millions of people has been unemployment. But some families have also faced their own or a partner's disability and/or death, which, of course, further compromises the family's income.
Building a financial house should start with its foundation. Nothing is more foundational than . There are a few things we should consider that have everything to do with our income: cash reserves in case of unemployment, disability income protection and income replacement life insurance. Each of these is fundamentally about continuing to have income flow into the household.
---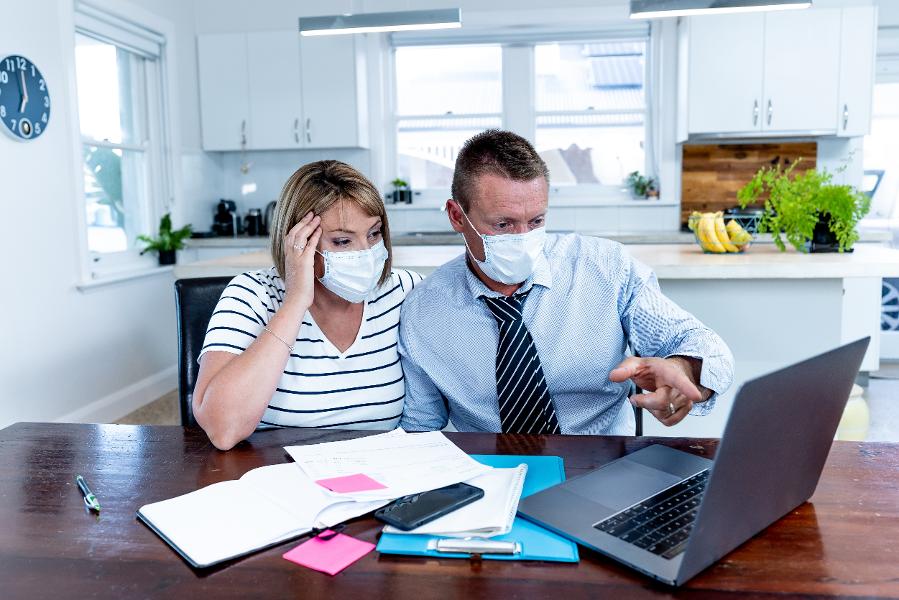 ---
Sudden Unemployment
Hopefully, you've never experienced being unemployed, but it doesn't hurt to be prepared for it. When you apply for unemployment, there are decisions to make, such as whether to have taxes taken out. Depending upon your lifestyle, you may find that the unemployment check is not enough. In fact, depending upon your income, it definitely will not fully replace your income, since it caps at a given amount. Having a three-month cash reserve capable of covering your total expenses would provide mental relief, especially if your unemployment check does not equal what you had been earning. But even a healthy cash reserve, coupled with your unemployment benefit, will likely provide only four or five months of full income replacement. Depending upon your job, such as being a college or professional sports coach, you may find yourself unemployed for longer than a few months.
In a situation such as the current pandemic, you may also find that if you are a property owner with renters, they are unemployed as well, and you cannot be assured that they have cash reserves to continue paying the rent. You may need an even larger cash reserve in that case.
Disability
Then there is the possibility of a loss of income due to a health issue. Our health is even more unpredictable than becoming unemployed. Hopefully your employer provides health insurance, but remember that health insurance pays for only a portion of our health expenses, should we need them. If you were to need significant care due to COVID-19 or a health event of the type I experienced a few years ago, your expenses would rise. You would likely also find that you are unable to work for some period. In many cases, that would mean that your paycheck would not continue. That is when disability income protection would kick in. It pays a portion of your income during this time. There are group policies, private polices, short-term policies and long-term policies, as well as a myriad of features to consider. I believe disability income protection is the most complicated of all income insurances to figure out. Ideally, your company has some options for you and can help you make a wise choice.
Caution: Policies purchased through work as a group policy will be taxed when you use them. Most of these policies pay a percentage of your normal pay, which is then further reduced by taxes. This could put you in a bind, especially if you have no cash reserves. Many people find it wise to purchase a private policy that would wrap around the workplace plan. Private policies are not reduced by taxes. Also, if you move from one job to another, the next employer may not offer short- or long-term disability income protection, in which case your only option would be to have a private policy.
If you do have a private policy, make sure it reflects your current income. I recently uncovered that a client had disability insurance, but it covered only about a third of her current need. She had had several significant raises over the years, and her policy benefit had not kept up. Wouldn't it be awful to think you were fully covered only to find that, when you need the protection, you're only one-third covered?
Life Insurance
If you are married or with a significant other, you should also have income replacement life insurance. I recently saw on a national TV program a widow being interviewed about the loss of her husband due to the coronavirus. A GoFundMe page had been set up to help her and her two young children survive. Most of us will not get national exposure for others to donate to support our family's needs.
It would be more reliable to have life insurance that replaces the income of the breadwinners or a stay-at-home spouse/partner. If you make $100,000 and you have 30 years before you retire, that multiplies to $3 million your family would need if you died. If you have only 10 years until retirement, that's $1 million of replacement income. If you have a stay-at-home spouse who takes care of the children, gets them to all their practices, cooks the food, etc., what would the family do without that person? In fact, one of my clients once said that he could not make the seven figures he produced without all the things that his wife did. What if she were gone? On top of the emotional loss, how would all that work get done? Would he have to work reduced hours? How would that impact his children?
It is important to consider the risks to your own and your family's income from unemployment, disability and death. COVID-19, aka the coronavirus, has shown us that these three could occur sequentially. While insurance may not be the answer for you, it is important to have a plan in place in case one or more of these events happens to you and your family.
If the pandemic has made you realize that your financial house needs a stronger foundation, don't despair. It's not too late to shore up that foundation. Even if you've lost your job to the pandemic, you can begin now to ensure that you emerge from it with a solid plan for your financial future. If that sounds like more than you can manage on your own, consider consulting a certified financial planner for help.
This article was written by James Brewer from Forbes and was legally licensed by AdvisorStream through the NewsCred publisher network.
© 2020 Forbes Media LLC. All Rights Reserved
This Forbes article was legally licensed through AdvisorStream.